I've always loved Chopin's music – there is something appealing about it that speaks directly to me. It's sensitive, melodic and so highly refined.
Now this year happens to be the 200th anniversary of Chopin's birth and while I was listening to his second piano concerto – 2nd movement (I love that) I thought I would check out his handwriting too.
So off I went to find a sample of Chopin's handwriting.
Chopin's Handwriting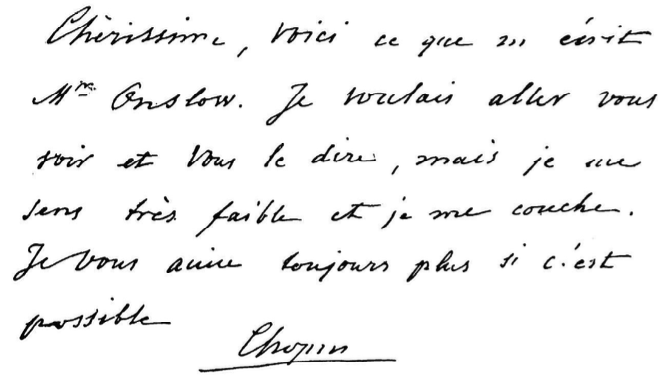 The first thing that struck me was the sensitivity as well as the fragile quality of the ductus. The pressure is light with several heavier instances – all of which point to some instability of temperament.
In fact in this text he mentions that he feels weak and needs to lie down. There are numerous breaks in the letters which re-enforce the impression of fragility. Take a look at the word "ecrit" in the top line.  The r is fractured – and there are several more examples like this in the sample.
And then notice the wide spaces between the lines and words that point to his feelings of loneliness and isolation while at the same time the right slant and and volatile pressure show emotional intensity. It is possible that these contradictions of temperament made him even more sensitive and furthermore, that these emotions are reflected in his music.
But there's also discipline.
We see this in the clarity, legibility and the small, even letters. The well-placed diacritics show culture and sensitivity.
There's the unpredictability of inspiration too. The rhythm and consistency is broken up here and there by innumerable breaks showing flashes of insight.
I think that  "Sensitivity and disciplined emotion" is probably a good way to describe his handwriting. And that is the exact phrase I would use to describe his exquisitely beautiful music too.
If you listen to one of his concertos I'm sure you'll appreciate how well his handwriting reflects his temperament as well as his music.
Interesting isn't it?  Do let me know what you think. Agree or disagree – I would love to hear your opinion.